Alan Mendelson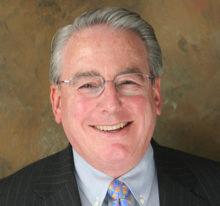 Alan Mendelson was a partner in the firm's Silicon Valley office and the Co-Chair of the firm's Venture and Technology Group. He joined the firm in May 2000, bringing a wealth of practice and management experience in the areas of corporate and securities law.
Mr. Mendelson's practice is primarily targeted toward the representation of emerging and public growth companies, with strong emphasis on companies in the life sciences industry. He has handled and supervised a variety of major business transactions, including venture capital financings on behalf of companies and investors, private placements and public offerings on behalf of companies and leading investment banking firms, mergers and acquisitions, joint ventures and other strategic collaborations, R&D limited partnerships and commercial transactions.
Mr. Mendelson is a member of the Emerging Companies Section Governing Body of the Biotechnology Industry Organization (BIO), 2004. He serves as the corporate secretary for many public and private companies and currently serves on the board of directors of Connectix Corporation, QLT, Inc. and Valentis, Inc. From November 1995 through June 1996, he served as acting General Counsel of Cadence Design Systems Inc., a leading EDA software and services company. Previously he served as secretary and acting general counsel of Amgen Inc., a leading biopharmaceuticals company. From 1991 through 1994, Mr. Mendelson served as the President of the Board of Directors of the National Kidney Foundation of Northern California Inc. and is currently a member of the Major Gifts Council for the Foundation for Lucile Packard Children's Health. From 1995 to 1998, he served as a member of the Board of Visitors of the College of Medicine at the University of California, Irvine.
Mr. Mendelson has spoken on topics related to strategic alliances, financing strategies and clinical and regulatory disclosure issues before the Licensing Executives Society, the Association of Bioscience Financial Officers, CLE International, the Biotechnology Industry Organization and the University of California, Berkeley.
Since 1993, Mr. Mendelson has been listed in editions of "The Best Lawyers in America." He was recognized as one of America's 100 most influential lawyers in the 1994, 1997 and 2000 editions of the National Law Journal and as one of "California's 100 Most Influential Lawyers" in 1998 and 1999 editions of California Law Business.