Andrea Correia, Senior Director, State Government Relations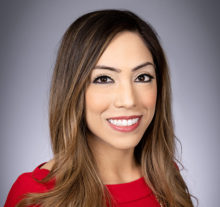 Andrea Correia is a seasoned government relations professional with over 12 years of experience, she serves as the Senior Director of State Government Relations for the California Life Sciences (CLS). Prior to joining CLS, she worked at McKesson Corporation where she managed the government relations (Western Region) for the US Oncology Network. Prior to joining McKesson, Andrea worked at a few national trade associations in Washington, DC where she managed national state advocacy for a provider association and lead federal policy issues in real estate finance (where she was honored in 2019 as 40 under 40 honoree by Women in Housing and Finance). Lastly, Andrea worked in the California State Legislature for six years working for various members – her latest role included serving as Deputy Chief of Staff & Legislative Director to a prominent member of the Assembly Health Committee.
Andrea Gutierrez holds a Bachelor of Arts in Government from California State University, Sacramento and also a Certificate in Non-Profit Board Leadership.