Andrea Gutierrez, Senior Director, State Government Relations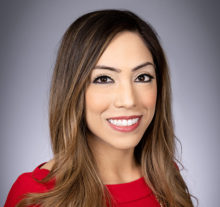 Andrea Gutierrez serves as the Senior Director of State Government Relations for the California Life Sciences (CLS). Based in CLS's Sacramento office, Andrea supports the organization's state advocacy priorities by cultivating strong relationships with various stakeholder groups, assisting with legislative policy, research and more. Andrea also supports the development and implementation of direct legislative advocacy and education efforts with members of the California legislature, Governor's office and various state and local agencies.
Andrea comes to CLS from the American Urological Association (AUA) in Washington, DC where she was the State Advocacy Manager, covering health/urology specific advocacy for all 50 states and U.S. territories. Andrea built coalitions, tracked and reported on state legislation, while managing the AUA's State Advocacy Committee and urology delegation to the American Medical Association's House of Delegates. Prior to joining AUA, Andrea worked on federal policy for three years focusing on policy issues relating to Medicare, Medicare Advantage, Medicaid and the Affordable Care Act. Lastly, Andrea worked in the California State Legislature for six years – her latest role included serving as Legislative Director to a member of the Assembly Health Committee.
Andrea Gutierrez holds a Bachelor of Arts in Government from California State University, Sacramento.