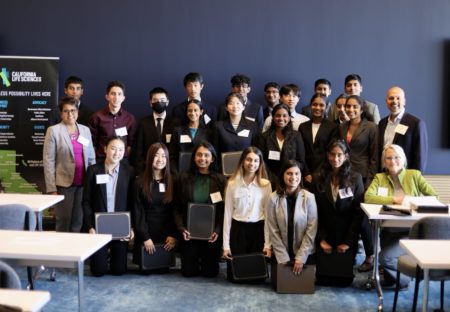 Engage and excite student innovators by creating an environment that allows them to showcase their talents and help accelerate their development as the next generation of scientists
Silver Creek High School 10th grader, Vedant Janapaty was selected the first-place winner of the CLS 2022 Bay Area BioGENEius Challenge–the premier competition for high school students that recognizes outstanding research and innovation in the biotechnology field.  As the Bay Area BioGENEius finalist, Janapaty will go on to compete in the International BioGENEius Challenge, which will take at the BIO International Convention this June in San Diego.
Janapaty was selected for his research project, An Elkhorn Slough Case Study: A Novel, Predictive Approach to Monitor Estuarine Health. Second place went to Adrit Rao, a 9th grader from Palo Alto High School for his research on Enabling Ankle-Brachial Index Prediction from Dopplers Using Deep Learning for Peripheral Arterial Disease Diagnosis; followed by third-prize winner Sanskriti Singh, a 10th grader from BASIS Independent Silicon Valley, who presented on Automated Coronary Calcium Scoring using U-Net Models through Semi-supervised Learning on Non-Gated CT Scans.
Honorable Mentions included: Sahand Adibnia, a 12th grader at Dublin High School, for his research on nannchloropsis Algae Biocathodes Decrease Cathodic Energy Losses in Two-Chamber Microbial Fuel Cells; Ella Lan, a 10th grader from the Harker School for her research Real-Time Surgical Video Analysis Utilizing vCNN, a Novel Deep Learning Architecture by Integrating vSLAM Into CNN; and Janani Prasad, an 11th grader from Amador Valley High School, for her work on AI/ML Drone-based Arecanut Monitoring System (ADAMS).
Supported by Amgen, the Bay Area BioGENEius Challenge took place at CLS's South San Francisco Event Center.
More than 80 students applied to this year's Challenge–the first to be held in person in three years. Twenty-four students advanced to the Bay Area competition, which included a career panel, keynote address and awards presentation. Saptarsi Haldar, M.D., VP of Research, Cardiometabolic Disorders at Amgen, presided over the awards presentation, and Chetana Rao, Ph.D, Head of Site Strategy & Operations, Bay Area, at Bristol Myers Squibb, gave the keynote address.
The International BioGENEius Challenge is organized by the Biotechnology Institute.
"Our mission is to engage and excite student innovators by creating an environment that allows them to showcase their talents and help accelerate their development as the next generation of scientists," said Dr. Lawrence Mahan, President of Biotechnology Institute.  "The BioGENEius Challenges encourage students to apply their scientific knowledge to solve some of society's most pressing issues through biotechnology, allowing them to see the tremendous potential they have to make change in the world.
About California Life Sciences (CLS)
About California Life Sciences: California Life Sciences (CLS) is the state's most influential and impactful life sciences membership organization, advocating for the sector and its diverse innovation pipeline. For more than 30 years, CLS has served the community by supporting companies of all sizes, from early-stage innovators and startups to established industry leaders in the fields of biotechnology, pharmaceuticals, and medical technology. As integral components of a healthy and collaborative ecosystem, CLS also works closely with universities, academic and research institutions, the investment community, and other critical partners that promote this vibrant sector. With offices in South San Francisco, San Diego, Sacramento, Los Angeles, and Washington DC, CLS works to shape public policy, improve access to breakthrough technologies, educate lawmakers, and advance equity within our ecosystem by championing innovative solutions for some of the most pressing challenges of our times. In doing so, CLS fulfills its mission to protect and nurture California's life sciences industry, empowering discoveries that lead to healthier lives around the world. #WeAreCaliforniaLifeSciences
About the Biotechnology Institute
The Biotechnology Institute is an independent, national nonprofit organization dedicated to education about the present and future impact of biotechnology.  Its mission is to engage, excite and educate the public, particularly students and teachers, about biotechnology and its immense potential for solving human health, food and environmental problems.  For more information, visit www.biotechinstitute.org.