Cristin Hubbard
Global Head of Diagnostics Partnering, Roche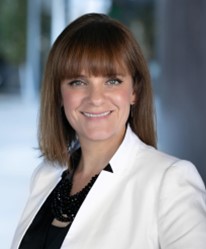 Cristin Hubbard is responsible for bringing external innovation into the Roche Diagnostics Group. In her role as Global Head of Diagnostics Partnering, Cristin is a member of the Diagnostics Leadership Team based at Roche's Headquarters in Basel.  Having grown up in California, US, her career has spanned over 20 years in the healthcare industry.
Cristin has had various roles with increasing responsibility across key functions, including Research, Development, Commercial and Partnering across Pharma and Diagnostics. She started her career as a medicinal chemist at Theravance, before joining Genentech in 2007 in Pipeline and Portfolio Planning where she provided strategic and analytical support for investment decision-making across the portfolio. She also held various strategic and operational roles in the US Commercial organization as part of Genentech. Cristin then moved into Global Product Strategy in the Roche Pharma division where she led the worldwide launch of a novel therapy for a rare condition. In 2019, she was appointed Senior Vice President of Global Product Strategy for the Immunology, Infectious Diseases and Ophthalmology portfolio.
Cristin started her current role in April 2021 to establish the newly created Diagnostics Partnering organization, to help position Roche as a partner of choice while developing  external collaborations and ecosystems across the diagnostics and healthcare industry.
Cristin holds a BS in Biochemistry and Molecular Biology from University of California at Santa Cruz. She also completed the Graduate Program of Health Management at the University of California at Berkeley, earning an MBA from the Haas School of Business and an MPH from the School of Public Health.