Daria Mochly-Rosen, Ph.D.
The George D. Smith Professor in Translational Medicine
Professor, Chemical and Systems Biology, Stanford University School of Medicine
The George D. Smith Professor in Translational Medicine
Professor, Chemical and Systems Biology
Founder and co-Director, SPARK Translational Research Program
Stanford University, School of Medicine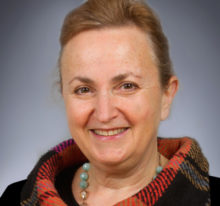 Dr. Daria Mochly-Rosen is a Professor of Chemical and Systems Biology and the George D. Smith Professor for Translational Medicine at Stanford University School of Medicine. She leads a multi-disciplinary research lab that includes chemists, biochemists, biologists and physician scientists and has used her basic research discoveries to develop several drugs leads for human diseases with interest in mitochondrial biology and pathology. She has published over 230 papers and over 30 patents and patent applications and have founded three companies: KAI Pharmaceuticals (2003-2011), ALDEA (now Aviv Therapeutics; 2013-) and Mitoconix (2016-).
Dr. Mochly-Rosen is the founder and co-director of SPARK (SPARKmed.stanford.edu), a university-wide program focusing on translational research to benefit patients and society. Now in its 10th year, SPARK helped about 73 inventors (60% of the participants of the program) of biopharmaceuticals and diagnostics bring their invention to clinical studies and/or to licensing. This unique program provides education in drug discovery and development and supports the school's mission in translational research. SPARK programs have now been established or are under development in two dozen academic institutions in the US and throughout the world, increasing the likelihood that new treatments will be developed from academic research efforts across the globe.
Dr. Mochly-Rosen served on many university leadership committees, was the chief of the division (2000-2001), chair of her department (2001-2004) and the Senior Associate Dean for Research, Stanford University School of Medicine (between 2006 and 2013).
Dr. Mochly-Rosen received her B.S. in life sciences from Tel Aviv University, her Ph.D. from the Weizmann Institute of Science, and was a postdoctoral fellow with Dan E. Koshland, Jr. in the department of Biochemistry at UC Berkeley. She was Assistant and Associate professor at UCSF (1985-1992), until she joined Stanford University, in January 1993 as an Associate Professor.
She is a Founding Fellow of the International Society of Heart Research and elected member of the Council, International Society of Heart Research and is a Fellow in the Council on the Basic Cardiovascular Sciences of the American Heart Association. She served on the NIH council of Councils, NIH Peer Review Advisory Committee, Biochemistry Study Section, the Intramural Council of the National Institute of Alcohol and Alcoholism (NIH), a special advisory group to The National Institute on Aging, the American Heart Association Study Section, as a consultant to The Chinese Academy of Sciences, Bureau of Basic Research and was a member of Taiwan's National Research Program for Biopharmaceuticals (NRPB), a government program to promote the invention of new drugs and new medical devices managed by Academia Sinica (2010-2015), was a speaker in TEDMED (2015) and a participant in The World Health Summit (2016). She also served on the scientific advisory board of several Bay Area biotechnology companies. Her laboratory's research is funded by several grants from the NIH, and she is a holder of an NIH Merit Award.