Elizabeth Grammer, Esq.
Executive Vice President, General Counsel and Head of Human Resources, Ardelyx, Inc.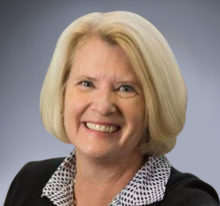 Elizabeth Grammer is a strategic and innovative thinker with a passion for developing, articulating and leading the execution of corporate strategy. Known for impeccable judgement and a strong, yet diplomatic style, she is able to motivate and guide teams through complex challenges. Trained as a lawyer and driven to advance the business interests of the company, Liz believes that successful leaders identify and respond to risk, but do not allow the presence of risk to solely define their course of action. Respected as a credible voice in decision making and establishing governance boundaries, Liz thrives on serving as a thought partner and building consensus for positive results.
Currently Liz is the Executive Vice President, General Counsel and Head of Human Resources of Ardelyx, Inc., a biopharmaceutical company focused on enhancing the way people with cardiorenal diseases are treated by developing first-in-class medicines. As a member of the Executive Team, Liz plays a key role in setting corporate strategy. As the head of human resources, she is able to seamlessly align talent acquisition and management with corporate goals. Liz works closely with the Board of Directors and the CEO on executive compensation and corporate governance matters. She attends and is a regular participant in all Board and Committee meetings. Liz is also a critically important partner to the business development and the operation teams and provides cross-functional support and leadership throughout the organization.
Prior to joining Ardelyx full time in 2012, Liz spent approximately four years serving as outside corporate counsel for numerous life sciences companies, typically serving in the role as sole in house counsel, but also supplementing larger in-house departments by providing specific expertise. Liz served in the general counsel role for Trine Pharmaceuticals and GelTex Pharmaceuticals, where she played a key role in the acquisition of GelTex by Genzyme Corporation.
Liz received her undergraduate degree from Boston University and her J.D. from Stanford University Law School, where she was Vice President of the Law and Technology Association. Liz is a member of the Bar in California and Massachusetts.