Ganesh Raman, Ph.D.
Associate Vice Chancellor for Research, California State University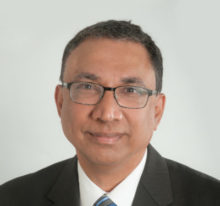 Dr. Ganesh Raman is Assistant Vice Chancellor for Research at the California State University Office of the Chancellor. In this role, he is the senior academic official responsible for the vision, advancement and administration of CSU's research and scholarly mission and enterprise. He is also a member of the senior administrative team of Academic and Student Affairs and leads CSU's research enterprise that has grown by $70M to over $648M in sponsored programs—in an era of significant national decline in research funding rates. He provides leadership at an enterprise level and his sphere of influence includes Presidents, Provosts, and Chief Research Officers (CROs) at 23 campuses. He also oversees ten systemwide affinity research groups and 300+ multi-campus institutes and communicates with 100+ deans in all disciplines: STEM through the humanities.
During his 3 years at CSU, he created the first-ever systemwide CSU Strategic Plan for Research, Scholarship and Creative Activities after a 15-month consultative process that involved Presidents, Provosts, CROs and the faculty affairs committee for the Statewide Academic Senate for all 23 campuses. Major features include connecting CSU research directly to student success and faculty excellence and serving California communities. He also envisioned, created and implemented a systemwide CSU STEM network that led to a wide umbrella of CSU STEM activities with a major focus on reducing the student achievement gap in STEM disciplines and providing faculty with a multi-campus collaborative environment and a program of systemwide mentoring for proposal writing.
Dr. Raman formerly served as Deputy Vice Provost for Research at the Illinois Institute of Technology, where he played a key role in the inaugural administration of a $1M prize focusing on Innovation with Societal Impact (Nayar Prize). He served as Co-Principal Investigator for an $8M Department of Energy University/Industry Consortium grant involving more than a dozen organizations. In addition to his administrative role, he was a professor in the Mechanical, Materials and Aerospace Engineering Department in the Armour College of Engineering at Illinois Tech.
Prior to his previous role, Dr. Raman served as Associate Dean of Research. As Associate Chairman for Aerospace Engineering, he was responsible for Accreditation Board for Engineering and Technology (ABET) accreditation at Illinois Tech.
He began his career at NASA Glenn Research Center where he worked for 14 years and has served in consulting capacities with the Boeing Company.
He was named a fellow by the American Institute of Aeronautics and Astronautics (AIAA), and is also a fellow of the American Society of Mechanical Engineers and the Royal Aeronautical Society, UK.
He is the founding editor-in-chief of the International Journal of Aeroacoustics and is internationally recognized for his research in the areas of aeroacoustics and flow control.
He has published over 150 articles in leading scientific journals and conference publications.
Dr. Raman earned his Ph.D. in Mechanical and Aerospace Engineering with a specialization in Fluid Dynamics from Case Western Reserve University in 1991.