Katie Wechsler
Audit Partner, Life Sciences, KPMG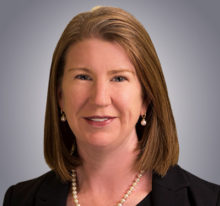 Katie is a partner in KPMG's Audit practice, focusing in the Life Sciences industry. Katie has over 20 years of experience working with both public and private companies in the US, the UK and Switzerland. Her client portfolio includes Life Sciences companies of all sizes, from early stage biotechnology to multi-national pharmaceutical companies. Her experience includes assisting private companies in their journey to becoming public, whether via a traditional Initial Public Offering or via a Special Purpose Acquisition Company.
Katie leads KPMG's Continuing Professional Education opportunities for executives in Life Sciences, including KPMG's annual Life Sciences CPE Day in the Bay Area as well as events targeted specifically at female executives in the Life Sciences industry.
Katie is a member of the American Institute of Certified Public Accountants, the California State Society of CPAs, and the Institute of Chartered Accountants in England and Wales. She is also a proud alumna of the University of South Carolina, where she obtained her Master of Accountancy and B.S. in Business Administration, with honors from the South Carolina Honors College.
Katie serves as a member of Session (the church's Board of Directors) at Trinity Presbyterian Church, San Carlos.