CLS works with academic partners to facilitate meaningful connections with industry professionals that bring learning to life and help students develop ongoing professional networks that can help launch and bolster their career paths.
The connections that California Life Sciences facilitates have a career focus and enable students to meet professionals from diverse backgrounds and experiences, and to develop valuable connections that will enhance their career exploration. We identify volunteers and connections for informational interviews, job shadows, resume review and mock interviews.
As part of CLS' commitment to create access to life science careers for BIPOC students – and to help diversify the industry's talent pipeline – we aim to connect these students to industry professionals who look like them, creating a sense of possibility and awareness that opens eyes and doors.
Virtual Career Talks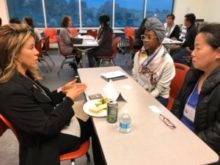 California Life Sciences relies heavily on a medium that students identify with and are responsive to, bringing a real-life element to their learning: live video career talks. Employing this vehicle allows industry professionals to engage from their place of work, demonstrate equipment, introduce colleagues, thus allowing students to "experience" their work environment.  It also makes it possible to tap more industry volunteers from a diverse set of backgrounds and careers, who might otherwise be unable to leave their work sites to participate in science initiatives as well as extending our reach well beyond the Bay Area to classrooms that are not located near life science clusters.
Speed Networking
Another valuable component of the Life Science Connections program are Speed Networking events that we host with industry professionals and students from high school through college to enable students to learn about new career options and to create valuable connections that can support their career journey.