2021 NexGeneGirls Summer Science Academy Supports 12 Young Women in Rigorous Science Research & Leadership Development Program
Back
The 2021 NexGeneGirls Summer Science Academy kicked off on June 3, 2021. Nearly 150 high school

females applied for the rigorous 8-week science research and leadership development program, with 12 participants selected. The young women have been paired with mentors from across industry, including science leaders from AbbVie, Horizon Therapeutics, Nektar Therapeutics, Theravance BioPharma & UCSF.
The new cohort is fortunate to gain the coaching and experience of two NexGeneGirl graduates, Eyuche Okorie and Samaa Rasheed, both of whom have returned from college this summer to serve as NexGeneGirl Ambassadors. In addition to college prep, STEM career panels, and other career-building workshops, the leadership development component of the program will include a speed networking event with tenant companies from J&J Innovation Labs.
The Summer program will culminate on July 30 with the NexGeneGirls Poster Presentation Gala, where the young women will present on their research to an audience of industry leaders, family members, and other program supporters.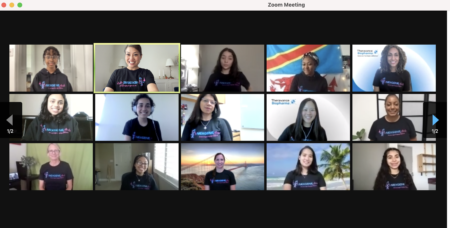 For more information contact NexGeneGirls@CaLifeSciences.org.