Emerging Innovators Q2 Update
Back
FAST / CARB-X / Emerging Innovators News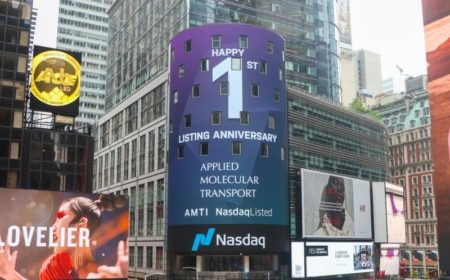 Applied Molecular Transport  (FAST Spring 2014), a clinical-stage biopharmaceutical company, announced the closing of its previously announced underwritten public offering of 2,875,000 shares of its common stock, which includes the exercise in full of the underwriters' option to purchase 375,000 additional shares of its common stock. The aggregate gross proceeds to AMT from the offering were approximately $120.8 million, before deducting underwriting discounts and commissions and other offering expenses. Read More
AMT has secured approximately a combined $298M USD in a NASDAQ IPO in June 2020 and subsequent follow on offering in April 2021, which will be used to further their clinical-stage programs, as well as usher other biologics and molecules based on their core platform through the pipeline.
When Dr. Mahmood started with FAST, "all we had were some really cool ideas, early data and some nice PowerPoints. The interaction with FAST advisors helped streamline our thinking in many ways and most importantly, form relationships that I have to this day. Not only did I get to interact with our own FAST advisors, but I built close relationships with founders of other companies in the program. I really value these relationships; it feels like there's a special bond having been part of the FAST family."
AMT's 2014 FAST advisory team consisted of Sam Wu, Julie Taylor, Steven Madrid, Steven Green, Nick Mordwinkin, Alpana Naresh, Ann Mead, Mark Kaufmann, Sunil Joshi, Becky Foster, Steve Engle, Miro Brajenovic and Karen Berry.
Pendulum Therapeutics (FAST Spring 2014), – a biotech company improving health through products targeting the microbiome – today announced a $54 million investment led by Meritech Capital with participation from existing investors including Sequoia Capital, True Ventures and Khosla Ventures. This Series C round nearly doubled the entirety of Pendulum's previous raises and brings the total venture capital raised to $111 million. Read More
GigaGen  (FAST Spring 2015), a biotechnology company advancing transformative antibody drugs for infectious diseases, transplant rejection and checkpoint resistant cancers, and a subsidiary of Grifols, announced today publication of research, titled, "Generation of recombinant hyperimmune globulins from diverse B cell repertoires," in the peer-reviewed journal Nature Biotechnology. Read More
HepaTx , (FAST Spring 2017), a preclinical stage company developing cell therapies for the treatment of liver disease, is pleased to announce the appointment of Salah Kivlighn, PhD as Chief Executive Officer. An experienced business leader, Dr. Kivlighn will succeed Co-founder Eric Schuur, PhD. Eric Schuur will continue his role with HepaTx as President and COO of the company, and will be responsible for guidance of all activities related to finalization of the preclinical package and IND filing of HepaTx first clinical candidate. Read More
Shasqi, (FAST Spring 2016), a clinical-stage biotechnology company developing precision activated oncology therapeutics with its proprietary Click Activated Protodrugs Against Cancer (CAPAC™) Platform, announced today that it has been awarded a $2 million Direct-to-Phase-2 Small Business Innovation Research (SBIR) grant from the National Cancer Institute (NCI). These non-dilutive funds will support immune biomarker analysis of patient samples from Shasqi's Phase 1 clinical trial of lead candidate SQ3370 as well as manufacturing process development. Read More
Purigen Biosystems (FAST Spring 2015), a leading provider of next-generation technologies for extracting and purifying nucleic acids from biological samples, today announced the CE (Conformité Européene) marking of its Ionic® Purification System. Purigen has certified that its products comply with the European Union's performance, safety, and relevant product and service standards requirements. With the marking, Purigen is now able to support clinical and oncology researchers across the European Union and other CE Mark geographies, including the UK. Purigen is also expanding its commercial operations to help meet the growing worldwide demand for its best-in-class nucleic acid purification technology. Read More
The 221b Foundation, a nonprofit organization established by Sherlock Biosciences to address the global COVID-19 pandemic while promoting diverse representation in STEM, and LogicInk (FAST Spring 2017), a lifestyle sensor company developing bio-chemical signals that can be worn or applied daily, today announced the organizations have entered into a license agreement to enable LogicInk to utilize Sherlock Biosciences' CRISPR technology to develop an instrument-free diagnostic biosensor for the detection of the SARS-CoV-2 virus. Read More
CARB-X
CARB-X has awarded SpeeDx, a diagnostics company in Sydney, Australia, up to $1.8 million to develop a rapid test for Chlamydia trachomatis and Neisseria gonorrhoeae, sexually transmitted bacteria that can cause serious infections and that are spreading around the world at alarming rates. Read more
CARB-X has awarded GenomeKey (Genomics Labs Ltd.) in Bristol, UK, up to $3.0 million in non-dilutive funding to develop an innovative rapid diagnostic for sepsis. GenomeKey is eligible for up to $6.5 million in additional awards if the project achieves certain milestones, subject to available funds. Read more
CARB-X has awarded Baebies Inc., based in Durham, North Carolina, USA, up to $3.9 million to develop a rapid easy-to-use diagnostic for neonatal sepsis, a severe condition related to bacterial infections which, according to studies, kills an estimated 1.4 million young children world-wide each year.  Baebies will be eligible for up to $7.7 million in additional funding from CARB-X if project milestones are met, subject to available funds. Read more
CARB-X has awarded funding to Phico Therapeutics, in Cambridge, UK, to develop a new intravenous engineered bacteriophage drug to treat ventilator-associated pneumonia caused by Pseudomonas aeruginosa, a serious problem in hospitals, intensive-care units and health-care settings.  Read more
CARB-X has awarded Novel Microdevices, Inc. of Baltimore, Maryland, USA, up to $3.6 million in non-dilutive funding, and, subject to available funding, up to an additional $10.2 million if certain project milestones are met, to develop a new rapid molecular test to diagnose sexually-transmitted bacterial infections, including Chlamydia trachomatis and Neisseria gonorrhoeae. Read more