Puneet Sarin, Vice Chair
Worldwide President, BD Biosciences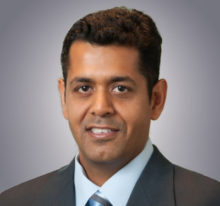 Puneet Sarin is a highly accomplished health care industry executive with more than 20 years of proven global experience in accelerating growth and delivering financial performance.
An established leader in the life sciences and clinical in vitro diagnostics industry, Puneet is currently President of BD Biosciences, a pioneer and leader in flow cytometry and single-cell genomics solutions for scientific research and clinical laboratories around the world. Appointed in 2019, Puneet is responsible for the strategic, operational, and commercial performance across the $1.2B business, as well as transforming its innovation pipeline, customer experience strategy, and employee experience.
Prior to joining BD, Puneet was senior vice president and general manager of the Chemistry and Immunoassay business unit at Beckman Coulter, an operating company of Danaher Corporation. Here he transformed the business' innovation engine, among other key strategic enhancements, delivering targeted organic growth. Prior to this, Puneet was with Danaher for nearly six years, where he previously held roles leading the Pathology Imaging business unit and successfully integrating the acquired Aperio business within Leica Biosystems.
Puneet also spent 14 years at GE, where he served in various leadership positions, including his most recent role with them as the general manager for the sub-acute monitoring business. Here he was responsible for the successful turnaround of its previously underperforming Blood Pressure Cuffs consumables business into a market leading industry franchise.
Puneet holds a Bachelor of Science from the Milwaukee School of Engineering and earned his MBA from Emory University. Puneet is Six Sigma Black Belt certified and a coach and practitioner of Lean principles.