Robin Toft
Founder and President, Toft Group Executive Search, a ZRG Company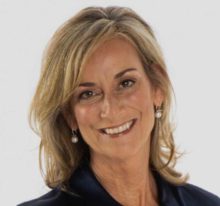 Robin Toft is the founder and President of Toft Group Executive Search a ZRG company, where she combines a deep inside knowledge of the Life Science industry with a passion for building game-changing executive teams. Over the past ten years, Toft Group has placed 1,000+ members of boards of directors and VP through C-level leadership positions within biotechnology, pharmaceutical, diagnostics, medical device, life science tools and healthcare high tech companies. A champion of diverse executive teams, Robin's company has built a reputation for recruiting female executives into top roles and helping the Life Science industry achieve gender equality. Robin created and leads WE CAN (Women's Executive Career Advancement Network™), a national network of women and ethnically diverse candidates who are eager to move ahead in the life sciences.
Robin is an author and thought leader in terms of diversity in the life sciences and healthcare high tech industries, an all too important initiative for future growth. She asserts that there is no glass ceiling for women – since most of Toft Group's hiring managers aspire to hire women. She is leading the conversation by writing commentary, speaking to women's groups and conferences, and talking with the media on the topics of the talent crisis and the need to accelerate the development of women, millennials, and ethnically diverse candidates.
Robin's first book entitled WE CAN, The Executive Woman's Guide to Career Advancement, is available on Amazon and is recognized within the list of 100 Best CEO Books of All Time by BookAuthority. WE CAN provides the confidence, language, tools, and practical advice for women to design and realize the career of their dreams. WE CAN was honored with Silver for Best Business Book in the American Business Awards for 2020.
Prior to founding Toft Group in 2010, Robin was a biotech executive for twenty years. Her prior roles include SVP of global commercial operations at Roche, VP of virology at Roche, and EVP of marketing and sales at ViroLogic Inc. (now Monogram Biosciences), a San Francisco startup where she was instrumental in the company's first product launches and IPO. Robin also served in a variety of executive roles at LabCorp and SmithKline Beecham Clinical Laboratories.
Robin's leadership talents have not gone unnoticed. In the American Business Awards for 2020, Robin won Gold in the three major individual categories of Lifetime Achievement, Maverick of the Year and Woman of the Year. Robin also won silver for Entrepreneur of the Year – Business and Professional Services. In 2018 and again 2019 she was honored as a finalist in Ernst & Young's prestigious Entrepreneur of the Year awards. In 2017, she was named Woman of the Year by the San Diego Business Journal and also as a finalist for their "Most Admired CEO" awards. Under Robin's leadership, Toft Group received Athena's prestigious Pinnacle Top Company Award and was honored as a finalist in their Diversity and Inclusion awards.
Robin currently serves on the boards of The Clearity Foundation, supporting ovarian cancer patients; and is the Chairman of LEAD San Diego, dedicated to developing civically engaged leaders. Additionally, Robin has served on the Scripps Mercy Hospital Foundation Board; American Heart Association's "Go Red for Women" executive leadership team and is an inaugural member of the Susan G. Komen San Diego Advisory Council, having participated in the annual Komen walk to support breast cancer research, since 2010. Robin holds a B.S. in Medical Technology (Clinical Laboratory Science) from Michigan State University and pursued her teaching credential at San Diego State University.