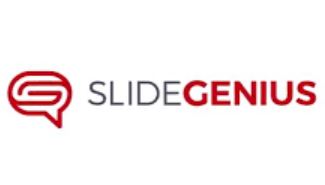 SlideGenius is the world's leading presentation design agency. Our clients trust their visual innovation to design engaging presentations that inspire their audiences to take action. Use SlideGenius through the California Life Sciences Cost Savings program and be eligible for an e-commerce rebate if most of your orders are placed online.
Member Benefits:
California Life Sciences members receive $125/hour a la carte project rate (regularly $150) for presentation design & copywriting services.
Reduced a la carte project minimum to $1500 (regularly $2000) for presentation design & copywriting services
Access to SlideGenius' enterprise retainer pricing (reduced hourly rates for upfront payments)
Included Services are: Presentation design, copywriting, *graphic design and *video design services within the SlideGenius offerings. Full scope (time and cost) of project will be determined by SlideGenius and based on clients requested design needs.
*Graphic design and video design projects will be quoted separately