Stephen Richardson
Co-Chief Executive Officer, Alexandria Real Estate (ARE)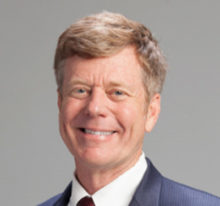 Stephen A. Richardson is Co-Chief Executive Officer of Alexandria Real Estate Equities, Inc. Mr. Richardson assumed the role on April 23, 2018. An 18-year Alexandria veteran, Mr. Richardson jointly leads the company with a long-term focus on strategic planning and revenue growth.
During his tenure at Alexandria, Mr. Richardson previously served as Chief Operating Officer from October 2011 to April 2018, and in positions of increasing responsibility as Regional Market Director of San Francisco from July 2005 to April 2018, leading the management and growth of all aspects of its San Francisco asset base and operations. From February 2000 to July 2005, Mr. Richardson held the position of Vice President of Portfolio Services.
Prior to Alexandria, he served as a Director at CellNet Data Systems from 1993 to 2000, where he was responsible for negotiating large-scale technology transactions and aggregating a national footprint of wireless spectrum. From 1983 to 1993, Mr. Richardson served as a Director of Marketing and Leasing at Paragon Group, a national real estate development company, and as a real estate broker focusing on the greater Silicon Valley market at Schneider Commercial Real Estate.
Mr. Richardson currently serves on the board of directors of the California Life Sciences Association, whose mission is to advance California's world-leading life sciences innovation ecosystem by advocating for effective national, state, and local public policies and by supporting life sciences entrepreneurs and businesses.
Mr. Richardson received his Master of Business Administration degree from Santa Clara University and his Bachelor of Arts degree in Economics and Literature from Claremont McKenna College.