Steve A. Kay, Ph.D., D.Sc.
Director of Convergent Bioscience, Provost Professor of Neurology, Biomedical Engineering and Biological Sciences, University of Southern California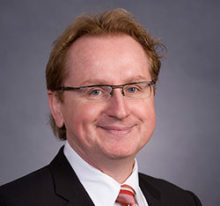 Dr. Steve Kay currently serves as the Director of Convergent Biosciences, and is a Provost Professor of Neurology, Biomedical Engineering and Biological Sciences at the Keck School of Medicine, University of Southern California. He held the position as the
21st dean of the USC Dornsife College of Letters, Arts and Sciences from 2012-2015. During this time he held the Anna H. Bing Dean's Chair in addition to faculty appointments in molecular and computational biology at USC as well as in neurology, physiology and biophysics and the Zilkha Neurogenetics Institute at the Keck School of Medicine of USC.
Dr. Kay, is one of the world's top experts on the genetics and genomics of circadian rhythms. Having published more than 200 papers, he was named by Thomson Reuters as one of "The World's Most Influential Scientific Minds"  from 2014-2017 and has been cited in Science magazine's "Breakthroughs of the Year" three times since 1997.
Dr. Kay's research has contributed significantly to the understanding of the molecular basis for circadian rhythms, which serve as the body's clock for timing the day-night cycle. For example, his lab is exploring the ties between circadian rhythms and glucose metabolism. This investigation has led Dr. Kay and his collaborators to discover a chemical that regulates our biological clock and that could be used to develop new drugs to treat metabolic disorders such as type 2 diabetes. Recently, Dr. Kay and his researchers have identified a genetic switch that regulates a plant's internal clock based on temperature and which may lead to plants that can better adapt to climate change.
Dr. Kay, who studied genetics and genomics, received his Ph.D. and D.Sc. from the University of Bristol, United Kingdom. Prior to joining USC in 2012, Dr. Kay served as dean of biological sciences at the University of California, San Diego. He has also held faculty positions at The Rockefeller University, University of Virginia and The Scripps Research Institute — as well as served as the VP of Discovery Research at the Genomics Institute of the Novartis Research Foundation. GNF focused on using high throughput technologies to push novel development candidates into the Novartis clinical pipeline. Dr. Kay served as President of The Scripps Research Institute from 2015-2016. In addition, he has founded several biotechnology companies.
In 2008, Dr. Kay was elected as a member of the National Academy of Sciences, in 2009 he was elected as a fellow of the American Association for the Advancement of Science, and in 2011 he was awarded the American Society of Plant Biologists' 2011 Martin Gibbs Medal for his pioneering work in plant sciences.