California Life Sciences and Create The Space launch Shark Sessions, a youth pitch competition
Back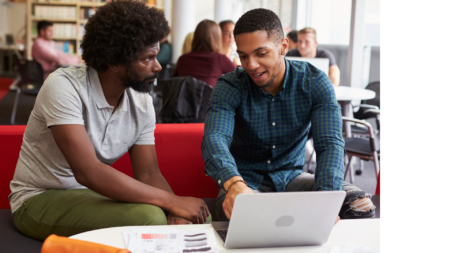 September 29, 2022
California Life Sciences (CLS), the state's most impactful life sciences membership organization, announced today it has given $18,000 in funding to Create The Space to launch Shark Sessions, a youth pitch competition for 9th-12th-grade BIPOC students across the state. Create The Space is an Oakland-based community organization for people of color that aims to bring Black mental health and wellness to the forefront of awareness and access.
Beginning on October 17, 2022, 10-12 high school students will learn how to develop and pitch their entrepreneurial business ideas. The six-part curriculum, powered by Triton Pilot Program, will: introduce students to the idea of innovation in our everyday lives; teach them the science behind creating impacting messaging from their ideas, and; pair them with business mentors to guide and prepare them for the pitch competition. Students will present their business concepts before judges and compete for $2000 in cash prizes during the final Shark Session Pitch Competition in November.
"This program is intended to create a launching space that fosters self-esteem, healing, and achievement," CTS Founder Denzel Herrera-Davis said. "We take an I-Centric approach with frameworks centered on the individual, enabling them to clarify their personal and professional goals and eliminate barriers to accomplishing them—through deep exploration, purpose activation, actionable strategies, practical tools and professional resources."
"Well-designed and managed mentorship programs such as this pitch competition, can have a dramatic impact by creating equitable access for students and offering transformative change in our communities," said Marc Fields, senior vice president of Racial and Social Equity and Culture at CLS. "We aim to build meaningful relationships and interactions as well as foster a collaborative environment where students can thrive."
This program is part of CLS' focus on Racial and Social Equity, a unified effort to do more for the historically excluded Black, Indigenous, and other People of Color (BIPOC) populations in California.
About California Life Sciences: California Life Sciences (CLS) is the state's most impactful life sciences membership organization, advocating for the sector and its diverse innovation pipeline. For more than 30 years, CLS has served the community by supporting companies of all sizes, from early-stage innovators and startups to established industry leaders in the fields of biotechnology, pharmaceuticals, and medical technology. As integral components of a healthy and collaborative ecosystem, CLS also works closely with universities, academic and research institutions, the investment community, and other critical partners that promote this vibrant sector. With offices in South San Francisco, San Diego, Sacramento, Los Angeles, and Washington DC, CLS works to shape public policy, improve access to breakthrough technologies, educate lawmakers, and advance equity within our ecosystem by championing innovative solutions for some of the most pressing challenges of our times. In doing so, CLS fulfills its mission to protect and nurture California's life sciences industry, empowering discoveries that lead to healthier lives around the world. #WeAreCaliforniaLifeSciences
About Create The Space: Create The Space is an Oakland-based concierge for Black men seeking community and wellness. Utilizing community and the power of shared vulnerability, CTS encourages and facilitates healing, connection, and growth. The aim is to bring Black mental health and wellness to the forefront of awareness and access for the last mile customer. By designing for the most marginalized, CTS delivers solutions for all. #RehumanizingBlack Learn more at http://cr8thespace.com