California Life Sciences Announces New Board Leadership
Back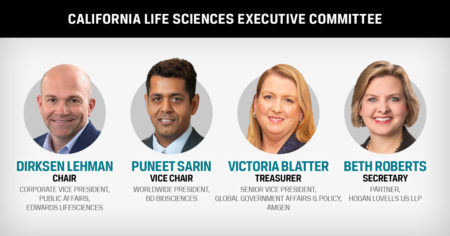 5/12/2022
SOUTH SAN FRANCISCO, SAN DIEGO, LOS ANGELES, SACRAMENTO, Calif. — California Life Sciences (CLS) is pleased to announce new leadership of its board of directors.
Board officer appointments are as follows:
Dirksen Lehman, corporate vice president of public affairs at Edwards Lifesciences, has been appointed board chair
Puneet Sarin, worldwide president, BD Biosciences, has been appointed board vice chair
Victoria Blatter, senior vice president of global government affairs & policy, Amgen, has been appointed treasurer
Beth Roberts, partner, Hogan Lovells US LLP, has been appointed secretary
"I couldn't be happier to have such a strong group of life sciences business executives leading the CLS board of directors," said Mike Guerra, CLS president and CEO. "I look forward to benefiting from their leadership as we advocate for and serve our diverse ecosystem of member organizations."
Lehman will serve as board chair for two years, having served previously as board treasurer. Lehman succeeds Melinda Richter, global head of Johnson & Johnson Innovation, JLABS, who has served as chair since 2019.
###
California Life Sciences (CLS) is the state's most influential and impactful life sciences membership organization, advocating for the sector and its diverse innovation pipeline. For more than 30 years, CLS has served the community by supporting companies of all sizes, from early-stage innovators and startups to established industry leaders in the fields of biotechnology, pharmaceuticals, and medical technology. CLS also works closely with universities, academic and research institutions, the investment community, and other critical partners that promote this vibrant sector. With offices in South San Francisco, San Diego, Sacramento, Los Angeles, and Washington DC, CLS works to shape public policy, improve access to breakthrough technologies, educate lawmakers, and advance equity within our ecosystem by championing innovative solutions for some of the most pressing challenges of our times. In doing so, CLS fulfills its mission to protect and nurture California's life sciences industry, empowering discoveries that lead to healthier lives around the world.