CALIFORNIA LIFE SCIENCES CEO MIKE GUERRA RECOGNIZED AS ONE OF SAN DIEGO'S MOST INFLUENTIAL PEOPLE
Back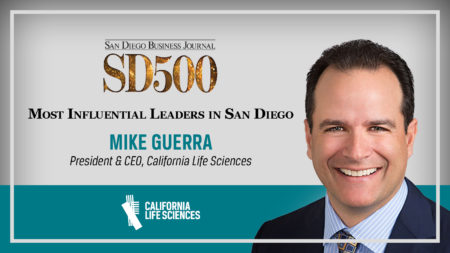 SAN DIEGO, Calif. – California Life Sciences (CLS) CEO, Mike Guerra, has been selected as an honoree for the San Diego Business Journal's list of 500 most influential people in the region.
Guerra, who has led the state's most impactful membership association for the past three years, is focused on an organizational agenda that advocates for policies that advance and preserve the life sciences ecosystem, as well as the vital work of supporting entrepreneurs and life sciences companies through community partnerships and other programs.
"I'm honored to be recognized by the San Diego business community," Guerra said. "San Diego has long been a hub for innovation, and I'm thrilled to serve our member companies and partners that are working so hard to improve human health."
Earlier this year, Guerra publicly voiced his support of CLS member companies requiring employee COVID-19 vaccinations. He has encouraged leaders and businesses to stand with verifiable science and make public health a priority.