Life sciences leaders to explore industry's role in achieving Cancer Moonshot
Back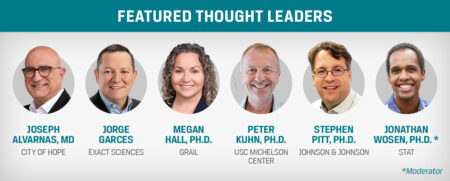 FOR IMMEDIATE RELEASE: August 3, 2022
NEWPORT BEACH, Calif. – California Life Sciences, the state's most influential life sciences membership organization, will be hosting the annual event, "An Evening with Thought Leaders," on August 16 at the Balboa Bay Club in Newport Beach.
The event will bring together experts in oncology to explore the Biden administration's Cancer Moonshot—an initiative with the goal of cutting cancer deaths in half in the next 25 years.
"So many of us have been touched by cancer. Our role as the life sciences sector is vital in achieving the Cancer Moonshot," said Mike Guerra, CLS CEO and president. "Our member companies rose to the challenge when facing a global pandemic—creating vaccines, tests, and therapeutics. I'm confident if we come together, we will answer this call as well and save precious lives."
The evening will be moderated by Jonathan Wosen, Ph.D., STAT News West Coast biotech and life sciences reporter. The following panelists will explore how the life sciences industry can end cancer as we know it:
Joseph Alvarnas, MD, City of Hope
Jorge Garces, Exact Sciences
Megan Hall, Ph.D., GRAIL
Peter Kuhn, Ph.D., USC Michelson Center
Stephen Pitt, Ph.D., Johnson & Johnson
Reserve your seat now. Members of the media are invited to attend free of charge. Please RSVP with [email protected] for a registration code.
An Evening with Thought Leaders is sponsored by Syneos Health, Avantor, Agilent, and Avanir Pharmaceuticals.
About California Life Sciences (CLS): California Life Sciences (CLS) is the state's most influential and impactful life sciences membership organization, advocating for the sector and its diverse innovation pipeline. For more than 30 years, CLS has served the community by supporting companies of all sizes, from early-stage innovators and startups to established industry leaders in the fields of biotechnology, pharmaceuticals, and medical technology. CLS also works closely with universities, academic and research institutions, the investment community, and other critical partners that promote this vibrant sector. With offices in South San Francisco, San Diego, Sacramento, Los Angeles, and Washington DC, CLS works to shape public policy, improve access to breakthrough technologies, educate lawmakers, and advance equity within our ecosystem by championing innovative solutions for some of the most pressing challenges of our times. In doing so, CLS fulfills its mission to protect and nurture California's life sciences industry, empowering discoveries that lead to healthier lives around the world.
Media Contact:
Alex Burch
California Life Sciences