Life Sciences Startup Accelerator Program to Help Record Number of Companies
Back
February 22, 2023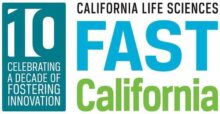 SAN FRANCISCO, SAN DIEGO, LOS ANGELES, SACRAMENTO, Calif. – A dozen life sciences startups have been selected to receive 12 weeks of business mentoring from expert advisors through California Life Sciences' (CLS) program, FAST California.
Now in its tenth year, FAST supports founders of disruptive and innovative life sciences startups. After a record number of applicants, the 2023 Spring cohort is the largest group of founders to date, bringing solutions to health problems like cancer, neurodegenerative diseases, metabolic diseases and more:
Therapeutic Startups:
BCN Biosciences | Pasadena, CA
Immunova Therapeutics | Monrovia, CA
Jaan Biotherapeutics | San Diego, CA
JAL Therapeutics | Irvine, CA
Minutia | Oakland, CA
ParaMag Biosciences | Davis, CA
Siege Pharmaceuticals | Irvine, CA
Synthis Therapeutics | New York, NY
MedTech Startups:
Flexperc Medical | San Jose, CA
GelSana Therapeutics | Aurora, CO
Level 42 AI | Mountain View, CA
Scopi Medical | Stanford, CA
 Each company will be matched with a group of advisors to perfect their business models, assess strategic focus, maximize IP, and help develop a milestone and scale-up plan to exit. FAST California is offered at no cost and no equity taken.
"California Life Sciences is dedicated to supporting and empowering innovation and entrepreneurship in our industry," said Sibylle Hauser, Executive Director of Innovation and Entrepreneurship. "And we're proud that out of the 108 companies who've graduated from the FAST program so far, half are led by women."
The Spring 2023 cycle will begin in March and conclude with an Innovation Showcase on June 21 in San Francisco, where the companies will pitch to an audience of potential investors and collaboration partners. Shikha Sharma, PhD, senior director of programs will be leading the FAST Program in 2023.
FAST California is possible thanks to the generous support of our sponsors: Abbvie, DLA Piper, Cooley, Hogan Lovells, Johnson & Johnson Innovation, Keck School of Medicine of USC (MESH Academy), MedTech Color, MedTech Innovator, and Women In Bio.
About California Life Sciences: California Life Sciences (CLS) is the state's most influential and impactful life sciences membership organization, advocating for the sector and its diverse innovation pipeline. For more than 30 years, CLS has served the community by supporting companies of all sizes, from early-stage innovators and startups to established industry leaders in the fields of biotechnology, pharmaceuticals, and medical technology. CLS also works closely with universities, academic and research institutions, the investment community, and other critical partners that promote this vibrant sector. With offices in South San Francisco, San Diego, Sacramento, Los Angeles, and Washington DC, CLS works to shape public policy, improve access to breakthrough technologies, educate lawmakers, and advance equity within our ecosystem by championing innovative solutions for some of the most pressing challenges of our times. In doing so, CLS fulfills its mission to protect and nurture California's life sciences industry, empowering discoveries that lead to healthier lives around the world.