San Diego's Top 50 Black Leaders Awards
Back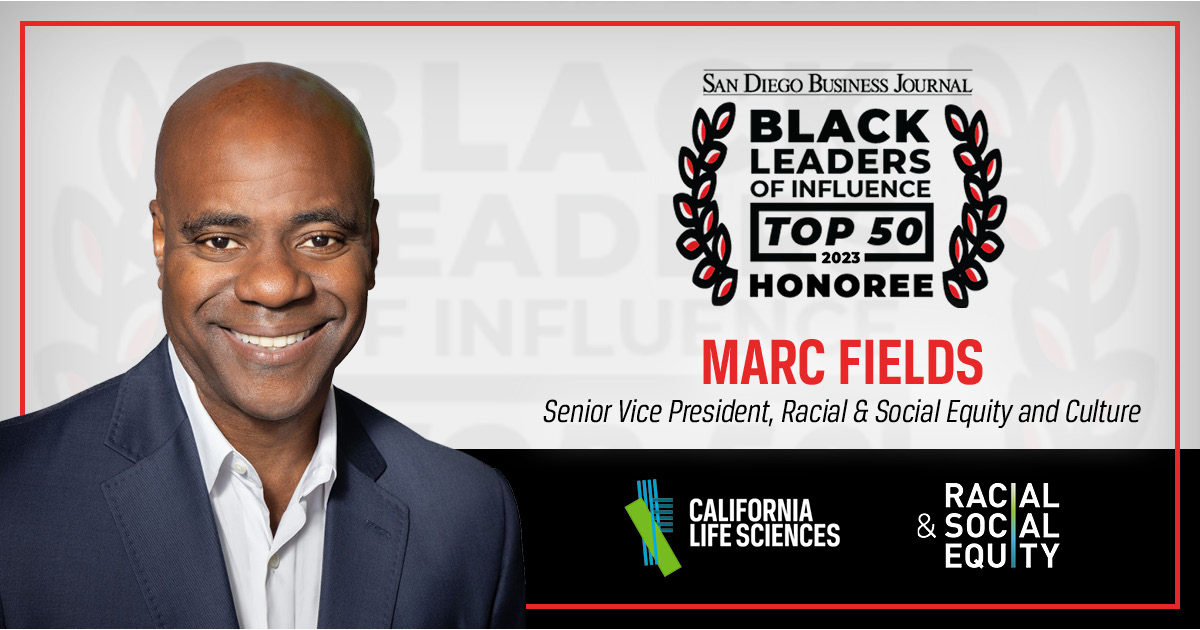 One of San Diego's Top 50 Black Leaders Aims to Change the Life Sciences Industry
San Diego, Calif. – The San Diego Business Journal has recognized California Life Sciences' Marc Fields, SVP of Racial & Social Equity and Culture, as one of the Top 50 Black Leaders of Influence in 2023. This award recognizes exceptional Black leaders in San Diego and their contributions to the city's community of business.
"I'm honored by this recognition and proud to be part of an industry whose purpose is to discover treatments, vaccines, and cures that help people live longer and healthier lives," Fields said. "However, many dimensions of diversity, particularly people of color, are still underrepresented in leadership roles and access to care and clinical trials. Our industry must continue to diversify to reflect the communities we serve, and I'm proud to be part of this movement."
Fields joined CLS in 2022 with the goal of creating positive change not just for one organization, but the entire life sciences industry. He's dedicated to creating a more diverse and inclusive industry through four areas of focus:
Working to improve health access and outcomes in underserved communities
Building a diverse talent pipeline of future STEM leaders
Funding diverse innovators
Building diverse boards
Watch Fields' Black History Month message here, and learn more about the impact of CLS's Racial and Social Equity work here.
About California Life Sciences: California Life Sciences (CLS) is the state's most influential and impactful life sciences membership organization, advocating for the sector and its diverse innovation pipeline. For more than 30 years, CLS has served the community by supporting companies of all sizes, from early-stage innovators and startups to established industry leaders in the fields of biotechnology, pharmaceuticals, and medical technology. CLS also works closely with universities, academic and research institutions, the investment community, and other critical partners that promote this vibrant sector. With offices in South San Francisco, San Diego, Sacramento, Los Angeles, and Washington DC, CLS works to shape public policy, improve access to breakthrough technologies, educate lawmakers, and advance equity within our ecosystem by championing innovative solutions for some of the most pressing challenges of our times. In doing so, CLS fulfills its mission to protect and nurture California's life sciences industry, empowering discoveries that lead to healthier lives around the world.