STEM Fair will bring free science kits and school supplies to 1500 Oakland kids
Back
September 6, 2022
OAKLAND, Calif. – Recent Oakland Technical High School valedictorian, Ahmed Muhammad, and his nonprofit, Kits Cubed, is hosting their second annual STEM Fair on September 17, 2022. The STEM Fair is presented by California Life Sciences (CLS), the state's most impactful life sciences membership organization.
"California Life Sciences is committed to increasing the diversity of talent in the life sciences industry, so we're excited to champion future scientists by supporting the Kits Cubed mission to introduce youth to the wonders of science through fun, accessible means," said Marc Fields, senior vice president of Racial and Social Equity & Culture at CLS.
CLS works to open doors for historically underrepresented communities to education and career opportunities in the life sciences. Partners, like Kits Cubed, enable CLS to improve Racial and Social Equity in life sciences by developing the next generation of science leaders and innovators.
The Kits Cubed STEM Fair is a community event that will provide hours of science activities, music, guest speakers, and food.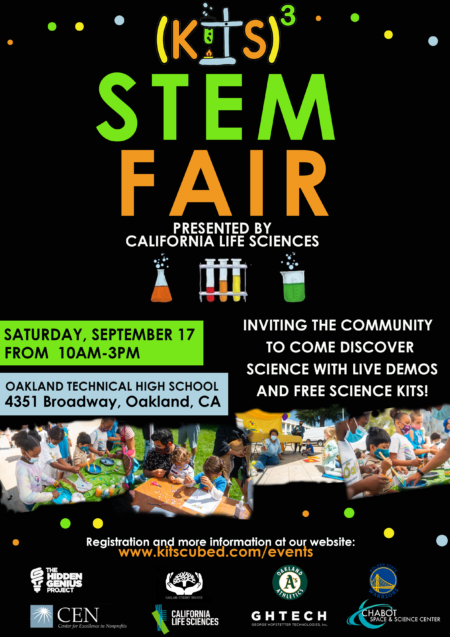 Last year, Muhammad became his school's first Black male class valedictorian. He just completed his first year at Stanford. Last year, the fair drew hundreds of Oakland kids during its inaugural event. Kits Cubed science kits are currently being integrated into the curriculum at Oakland Unified School District.
WHEN: Saturday, September 17 from 10 a.m. to 3 p.m.
WHERE: Oakland Technical High School, 4351 Broadway, Oakland, CA
Register here.
About California Life Sciences: California Life Sciences (CLS) is the state's most influential and impactful life sciences membership organization, advocating for the sector and its diverse innovation pipeline. For more than 30 years, CLS has served the community by supporting companies of all sizes, from early-stage innovators and startups to established industry leaders in the fields of biotechnology, pharmaceuticals, and medical technology. CLS also works closely with universities, academic and research institutions, the investment community, and other critical partners that promote this vibrant sector. With offices in South San Francisco, San Diego, Sacramento, Los Angeles, and Washington DC, CLS works to shape public policy, improve access to breakthrough technologies, educate lawmakers, and advance equity within our ecosystem by championing innovative solutions for some of the most pressing challenges of our times. In doing so, CLS fulfills its mission to protect and nurture California's life sciences industry, empowering discoveries that lead to healthier lives around the world.