Voting opens for the 2022 California Life Sciences Pantheon Awards, nominees announced
Back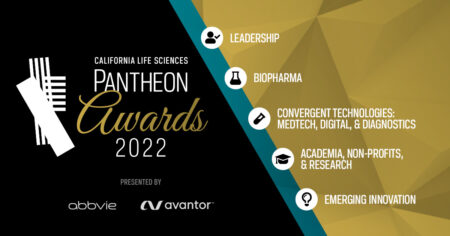 FOR IMMEDIATE RELEASE: Oct 3, 2022
SAN FRANCICSO, Calif, — California Life Sciences (CLS), the state's most impactful life sciences membership organization, announced today the nominees for the 2022 Pantheon Awards. The winners will be selected through a public voting campaign, which opens today.
For the first time in Pantheon history, award winners will be announced LIVE at the November 3 event, taking place at the Westin St. Francis. Now in its 19th year, Pantheon is the largest life sciences awards celebration in California.
This year's nominees, by award category:
Academia, Non-Profits, and Research

MedTech Color
Medtech Innovator
Founder of Stanford Byers Center for Biodesign
SPARK at Stanford Translational Research Program

Biopharma

Alector
Coherus Biosciences
Day One Biopharmaceuticals
Travere

Convergent Technologies: Medtech, Digital, and Diagnostics

Abbott
Eko Devices
Imperative Care
RefleXion Medical
Shockwave Medical

Emerging Innovation

Alladapt Immunotherapeutics
BridGene Biosciences
Caption Health
Fauna Bio

Leadership

Paul Hastings, Nkarta
Emily Leproust, Ph.D., Twist Biosciences
Ted W. Love, M.D., Global Blood Therapeutics
Frederic H. Moll, M.D., Johnson & Johnson Robotics
Irving Weissman, M.D., Stanford University
People can cast their votes here until October 14. Members of the press are welcome and can RSVP to [email protected]
About the Pantheon Awards: For the past 19 years, California Life Sciences (CLS) has recognized the state's leaders from across the pharmaceutical, biotech and other allied industries to pay tribute to those making exceptional contributions to the life sciences industry. The Pantheon awards recognize excellence and celebrate the contributions and achievements of leading life sciences innovators representing therapeutic, diagnostic, medical device, and industrial biotechnology companies.
About California Life Sciences (CLS): California Life Sciences (CLS) is the state's most influential and impactful life sciences membership organization, advocating for the sector and its diverse innovation pipeline. For more than 30 years, CLS has served the community by supporting companies of all sizes, from early-stage innovators and startups to established industry leaders in the fields of biotechnology, pharmaceuticals, and medical technology. CLS also works closely with universities, academic and research institutions, the investment community, and other critical partners that promote this vibrant sector. With offices in South San Francisco, San Diego, Sacramento, Los Angeles, and Washington DC, CLS works to shape public policy, improve access to breakthrough technologies, educate lawmakers, and advance equity within our ecosystem by championing innovative solutions for some of the most pressing challenges of our times. In doing so, CLS fulfills its mission to protect and nurture California's life sciences industry, empowering discoveries that lead to healthier lives around the world.