Announcing the Awardees of the CLS Inspire QuickFire Challenge for BIPOC Communities
Back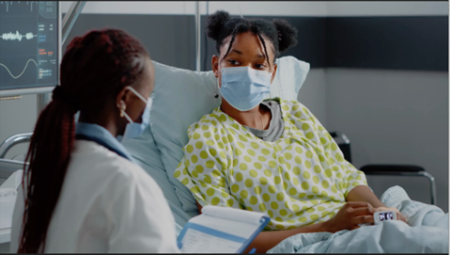 November 3, 2022 – California Life Sciences (CLS), together with Johnson & Johnson Innovation and AbbVie, announced today that HOPO Therapeutics, IHP Therapeutics, and LEVEL 42 AI, Inc. have been selected as the awardees in the CLS Inspire QuickFire Challenge for BIPOC Communities.
To help advance their research, the three awardees will receive grant funding from a pool of $150,000 from CLS and one year of complimentary CLS membership.
 HOPO Therapeutics develops innovative, orally-available treatments for unmet needs in heavy metal toxicity, including lead poisoning, nuclear threats, and exposure to medical and environmental contaminants.
IHP Therapeutics is developing novel glycans for targeted treatment of hematological diseases and cancer.
LEVEL 42 AI, Inc. is a software-as-medical device diagnostics company with fast, easy, low-cost, non-invasive, high-performance infrasonic-to-ultrasonic point-of-need devices supported by a workflow solution, for disease screening, earlier detection, diagnostics, and monitoring.
In addition, LEVEL 42 AI, Inc. will become the Spring 2023 QuickFire Challenge-FAST-track company, receiving 12 hours of advisory services from an experienced group of industry veterans to advance it's commercialization strategy.
The QuickFire Challenges are managed by Johnson & Johnson Innovation, with the goal to help address today's greatest healthcare challenges.
About California Life Sciences (CLS)
California Life Sciences (CLS) is the state's most influential and impactful life sciences membership organization, advocating for the sector and its diverse innovation pipeline. For more than 30 years, CLS has served the community by supporting companies of all sizes, from early-stage innovators and startups to established industry leaders in the fields of biotechnology, pharmaceuticals, and medical technology. As integral components of a healthy and collaborative ecosystem, CLS also works closely with universities, academic and research institutions, the investment community, and other critical partners that promote this vibrant sector. With offices in South San Francisco, San Diego, Sacramento, Los Angeles, and Washington DC, CLS works to shape public policy, improve access to breakthrough technologies, educate lawmakers, and advance equity within our ecosystem by championing innovative solutions for some of the most pressing challenges of our times. In doing so, CLS fulfills its mission to protect and nurture California's life sciences industry, empowering discoveries that lead to healthier lives around the world. Visit CLS at www.califesciences.org, and follow us on Twitter @CALifeSciences, Facebook, LinkedIn and YouTube.
About Johnson & Johnson Innovation
Johnson & Johnson Innovation LLC works across the pharmaceutical, medical device and consumer health sectors to accelerate early-stage, transformational solutions by catalyzing the best ideas, wherever they are in the world. We do this by harnessing our deep scientific capabilities coupled with a wide range of tools, including customized deal structures, company creation, incubation and startup services, capital investments and other innovative business models that aim to meet the diverse needs of entrepreneurs, scientists and emerging companies. Our goal is to help life science and health technology innovations thrive through collaboration and partnership with the global ecosystem, so that together we can change the trajectory of human health. Meet our passionate team of science and technology experts and learn how to collaborate with us at www.jnjinnovation.com.
About AbbVie
AbbVie's mission is to discover and deliver innovative medicines that solve serious health issues today and address the medical challenges of tomorrow. We strive to have a remarkable impact on people's lives across several key therapeutic areas: immunology, oncology, neuroscience, eye care, virology, women's health and gastroenterology, in addition to products and services across its Allergan Aesthetics portfolio. For more information about AbbVie, please visit us at www.abbvie.com. Follow @abbvie on Twitter, Facebook, Instagram, YouTube and LinkedIn