The FAST Program provides select entrepreneurs with intensive team review and coaching to perfect their business model, product development plans, and to build a compelling commercialization strategy. Emerging innovators benefit from the advice and counsel of industry veterans – custom-selected from the FAST network of over 425 professionals comprised of entrepreneurs, product, and business experts (i.e., clinical development, regulatory, reimbursement, and business development specialists) – during the twelve-week program. The program culminates with a Final FAST Showcase and Reception where FAST companies present to a distinguished audience of potential investors and collaboration partners.
FAST directly serves 8-12 companies each year; an additional 20-30 startup applicants receive referrals and other advising to help them become "FAST"- ready.
Application to the FAST program is on a rolling basis.
Our Impact
Here what recent FAST graduates have to say:
"The diversity of our FAST advisors' domain expertise allowed our small team to work through multiple obstacles and opportunities, from technical to legal. Their advice was instrumental in preparing ourselves for external meetings regarding intellectual property and strategic partnerships."
"The FAST program set our team up with a world class advisory team that exploded our growth through robust discussion and an amazing network of connections that we were able to leverage. The opportunity to discuss strategy and development decisions with industry veterans was crucial for our team which came from mostly academic backgrounds. We have grown so much as a company thanks to the FAST program!"
"The feedback from our advisory board was critical to helping us shape up our pitch and hone our thinking around business strategy. The plurality of perspectives represented on our advisory board, from business to team building to research, was invaluable in helping us articulate our vision. I would highly recommend this program to early-stage companies who would like someone to kick the tires of their venture before entering a fundraising process."
FAST by the Numbers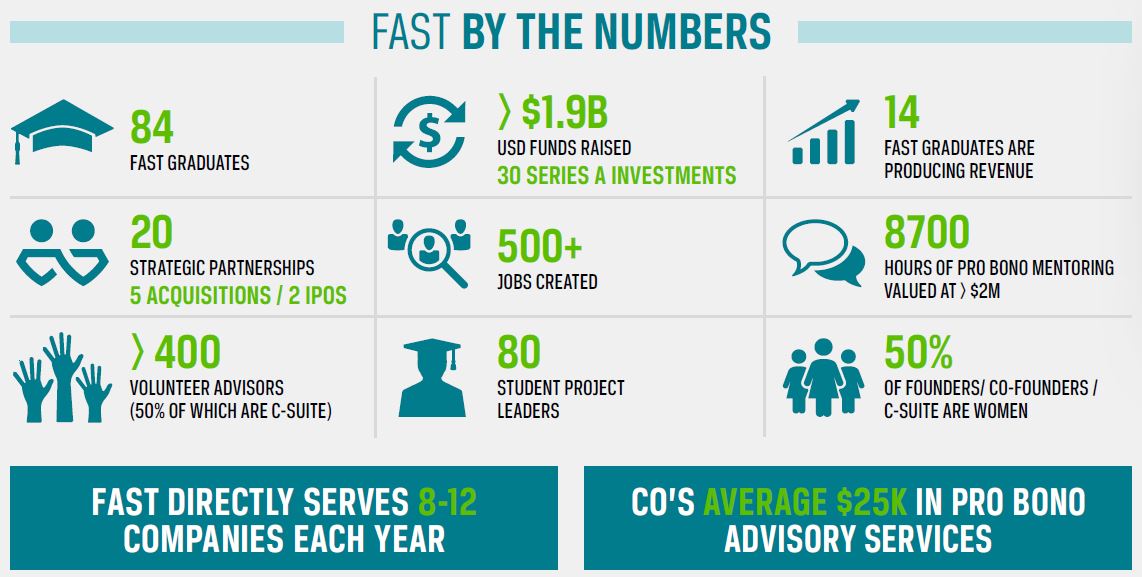 New FAST MedTechColor Track Fall 2021
Supported By: