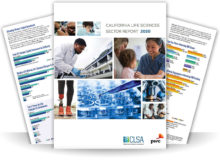 California Life Sciences produces the annual report to highlight the strength of California's biomedical sector. The 2020 California Life Sciences Sector Report, shows that California's life sciences sector directly employed 323,723 people, generated $191.6 billion in revenue, is projected to attract $6.5 billion in venture capital (VC) and received $4.5 billion in funding from the NIH.
For over 20 years, this annual report has been used by lawmakers, legislative staff, business leaders, educators, media outlets, developers and others to make key decisions and learn more about the life sciences sector in California.
Download the 2020 Report Today!
The 2020 Report is available as a free download thanks to the support of our membership. Click here to learn how you can become a part of our diverse community of over 1,000 life sciences members.