California Life Sciences sponsors 12 high school students to participate in STEM program
Back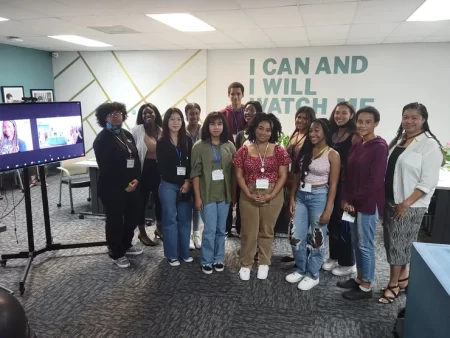 August 2, 2022
ORANGE COUNTY, Calif. – California Life Sciences (CLS), the state's most impactful life sciences membership organization, has committed $36,000 to sponsor 12 high school girls of color through a summer STEM program with University Lab Partners (ULP).
The eight-week program, called the Medical Innovation, Research and Entrepreneurship STEM Program (MIRE), is currently underway. Twelve high school students from My Sisters Keeper Success Institute (MSKSI) are working with industry mentors to solve real-world pediatric clinical needs, devising a proof-of-concept, an intellectual property/patent strategy, and an exit plan that they'll pitch on the final day of the program. This is the first MSKSI cohort to participate.
"This transformational partnership with CLS broadens our ability to not only bring opportunities associated with life science and innovation careers to BIPOC students, but also empower change agents such as My Sister's Keeper Success Institute to provide STEM programming with our plug-and-play model," said Karin Koch, ULP executive director. "Because of CLS' support, it has fast tracked our ability to facilitate these much-needed industry connections and mentors who are committed to supporting high school students in their career journey."
CLS works to inspire and develop the next generation of sciences leaders and innovators. Through the CLS Racial and Social Equity Initiative, CLS works with partners, like ULP, to open doors for historically underrepresented students to career opportunities and leadership in the life sciences—helping to diversify the industry's talent pipeline.
The MIRE program culminates in a Demo Day Reception happening August 4, from 4 p.m. to 7:30 p.m. at UCI Beall Applied Innovation, 5270 California Avenue, Irvine, CA 92617.
About California Life Sciences (CLS): California Life Sciences (CLS) is the state's most influential and impactful life sciences membership organization, advocating for the sector and its diverse innovation pipeline. For more than 30 years, CLS has served the community by supporting companies of all sizes, from early-stage innovators and startups to established industry leaders in the fields of biotechnology, pharmaceuticals, and medical technology. CLS also works closely with universities, academic and research institutions, the investment community, and other critical partners that promote this vibrant sector. With offices in South San Francisco, San Diego, Sacramento, Los Angeles, and Washington DC, CLS works to shape public policy, improve access to breakthrough technologies, educate lawmakers, and advance equity within our ecosystem by championing innovative solutions for some of the most pressing challenges of our times. In doing so, CLS fulfills its mission to protect and nurture California's life sciences industry, empowering discoveries that lead to healthier lives around the world.