California's top scientific innovators selected as finalists for the 20th annual California Life Sciences Pantheon Awards
Back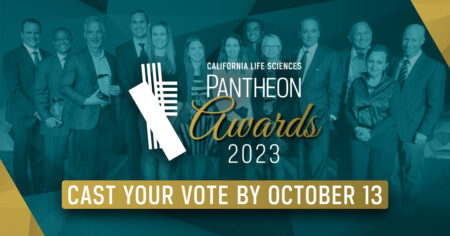 FOR IMMEDIATE RELEASE: Oct 2, 2022
SAN FRANCICSO, Calif, — California Life Sciences (CLS), the state's life sciences membership organization, announced today the nominees for the 2023 Pantheon Awards. The winners will be selected through a public voting campaign, which opens today.
Now in its 20th year, Pantheon is the largest life sciences awards celebration that recognizes the scientific innovators in California who are working to solve health problems and help patients around the world live longer, healthier lives.
Award winners will be announced live on stage at the November 1 event, taking place at the Westin St. Francis, which will draw 500 life sciences executives.
2023 Pantheon Finalists:
Academia, Non-Profit, and Research

Crystal Mackall, M.D., Stanford University
Erica Ollmann Saphire, Ph.D., La Jolla Institute for Immunology

Biopharma

BioMarin Pharmaceutical
Day One Biopharmaceuticals
Protagonist Therapeutics

Champion of Health Equity

Curebound
Innovative Genomics Institute
Life Science Cares

Medtech, Digital, and Diagnostic

AliveCor
Cue Health
Viz.ai

Emerging Innovation

Cellares
Metagenomi
Verge Genomics

Leadership

Nina Kjellson, Canaan
Emily Leproust, Ph.D., Twist Bioscience
Bill Newell, J.D., Sutro Biopharma
Elizabeth Schar Inspiring Future Leaders (Winner)

John Matsui, Ph.D., Biology Scholars Program, UC Berkeley
"As we mark our 20th year celebrating scientific innovation in California, we invite you to join us in recognizing these outstanding changemakers who are shaping the future of healthcare and making a profound impact on patients' lives worldwide," CLS President & CEO Mike Guerra said.
People can cast their votes here until October 13. Members of the press are welcome at the awards at no cost and can RSVP to [email protected].
About the Pantheon Awards: For the past two decades, California Life Sciences (CLS) has recognized the state's leaders from across the pharmaceutical, biotech and other allied industries to pay tribute to those making exceptional contributions to the life sciences industry. The Pantheon awards recognize excellence and celebrate the contributions and achievements of leading life sciences innovators representing therapeutic, diagnostic, medical device, and industrial biotechnology companies.
About California Life Sciences (CLS): California Life Sciences is the state's most impactful life sciences membership organization, advocating for the sector and its diverse innovation pipeline. For more than 30 years, CLS has served the community by supporting companies of all sizes, from early-stage innovators and startups to established industry leaders in the fields of biotechnology, pharmaceuticals, and medical technology. CLS also works closely with universities, academic and research institutions, the investment community, and other critical partners that promote this vibrant sector. With offices in South San Francisco, San Diego, Sacramento, Los Angeles, and Washington DC, CLS works to shape public policy, improve access to breakthrough technologies, educate lawmakers, and advance equity within our ecosystem by championing innovative solutions for some of the most pressing challenges of our times. In doing so, CLS fulfills its mission to protect and nurture California's life sciences industry, empowering discoveries that lead to healthier lives around the world.
###